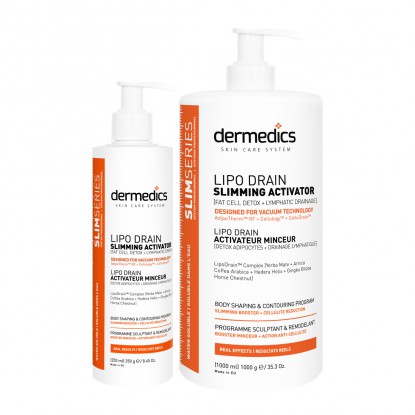 SLIM SERIES
LIPO DRAIN
Slimming Activator
SKU: LIPO DRAIN
LIPODRAIN is an innovative emulsion designed for all types of slimming massages targeted to obtain lymphatic drainage in the body by using manual procedures (MLD = Manual Lymphatic Drainage), vacuum or other therapies.
LIPODRAIN – Slimming Activator
Contains LipoDrain™ Complex to accelerate lymphatic drainage & detox of the body against cellulite and topical obesity!
Paraben free!
---
General product view
---
LIPODRAIN is an innovative emulsion designed for all types of slimming massages targeted to obtain lymphatic drainage in the body by using manual procedures (MLD = Manual Lymphatic Drainage), vacuum or other therapies.
Active ingredients*
---
LipoDrain™ Complex [Yerba Mate + Arnica + Coffea Arabica + Hedera Helix + Gingko Biloba + Horse Chestnut]
Safety
---
Free of parabens, alcohol and colorants.
Directions for use
---
Unisex: for women and men, for skin of all types
Anti-cellulite and slimming treatments
Detoxifying treatments (fat cells detox)
Heavy legs symptoms, puffiness / oedema
Post-menstruation oedema
Skin prone to broken capillaries
Chronic pain of the body caused by stress or fibromyalgia
(relief of the body given by lymphatic drainage stimulation)
Daily skin care and body shaping
This product is recommended for intensive massages that increase blood flow to reduce the appearance of varicose veins and to accelerate cell metabolic process against cellulite:
Endodermic vacuum massages with Cellulogy™ and CelluDrain™
Slimming treatments with vacuum and RF = AdipoTherm™ RF
Manual Lymphatic Drainage (MLD)
This product can be also used in slimming procedures with:
Laser lipolysis = LipoContour™ (apply before)
Thermal blankets (apply before)
Body wrapping (apply before)
Do not use with Mesowave™, ultrasounds or cavitation
Efficacy of active ingredients*
---
Each professional therapy with this product gives following benefits:
Provides veinotonic and lymphagogue efficacy against puffiness, cellulite and topical obesity
Provides strong and long-lasting body detox
Reduces swelling and lymphedemas of various origins
Stimulates immune-system of the body and collagen synthesis
Regenerates the tissue and provides anti-aging efficacy
Relieves chronic pain of the body (caused by stress or fibromyalgia)
Aids insomnia, loss of vitality and loss of memory
Prevents capillaries from breaking and inflammation
Relaxes the body
Intensively accelerates slimming effects
Reduces the appearance of orange-peel skin
Application area
---
All skin areas with tendency to puffiness, topical obesity and cellulite (legs, buttocks, waist, forearms, back, shoulders, other).
Contra-indications
---
Hypersensitivity to any component of the formulation
Acute inflammation (caused by bacteria, viruses or foreign bodies)
Chronic inflammation
Thrombosis at risk or embolism
Oedema following carcinoma treatment
Oedema caused by cardiac decompensation
Oncological diseases or cancer surgeries
Weakness of total body condition
Heart dysfunction or heart disease
Attacks of breathlessness (bronchial asthma or during menopause)
Hypotension or hypertension
Thyroid dysfunction
Liver dysfunction (because of intensive detox of the body)
Pregnancy and/or lactation, menstruation
Fever, illness or tooth extraction
Diabetes
INCI
---
Water/Aqua, Glycerin, Ethylhexyl Stearate, Ilex Paraguariensis (Leaf) Extract, Acrylates Copolymer, Gossypium Herbaceum (Cotton) Seed Oil, Coffea Arabica (Coffee) Seed Extract, Aesculus Hippocastanum Extract, Arnica Montana Extract, Hedera Helix Extract, Ginkgo Biloba Leaf Extract, Hypericum Perforatum Extract, Polyglyceryl-4 Laurate, Sorbitan Laurate, Dilauryl Citrate, Cetyl Hydroxyethylcellulose, PPG-5 Ceteth-20, Ethylhexylglycerin, Butylene Glycol, Sodium Hydroxide, PEG-60 Almond Glycerides, Parfum, Limonene, Propylene Glycol, Phenoxyethanol, Sodium Benzoate, Potassium Sorbate, Disodium EDTA.
Cautions
---
For external use only. Do not use for needle treatments.
Keep out of the reach of children.
Lymphatic drainage is not the same as vacuum endodermic massage of connective tissue. It is not allowed to combine lymphatic drainage with body wrapping, laser lipolysis, RF or thermal blankets during one treatment because of too huge intensity of the treatment !!!
Additional info
---
Can be mixed with LIPO BALM – Slimming Activator.
Can be mixed with MESO SLIM and MESO CAPIL serum in one treatment.
Product is water soluble: in contact with tepid water it transforms into lotion which is easily absorbed by the skin (there is no needs to take a shower by patient after the treatment; remove the excess with cellulose wet towel).
Results*
---
Skin condition improvement and puffiness reduction visible after single treatment. Regular application ensures spectacular skin improvement.
Unit package
---
Bottle with dispenser: 1000ml
* Efficacy of active ingredients confirmed by in vitro and in vivo tests through regular application.
Registered in European Union as Cosmetic Products according to the Cosmetic Directive 76/768/EEC.
Manufactured according to Good Manufacturing Practices (GMP).
Microbiologically and dermatologically tested. | NOT TESTED ON ANIMALS.
Made with the greatest care in the European Union.
Product Safety Data Sheet (PSDS) available on request.